Tecno Model PFR 30 Table Mounted Enclosure Mill Guards
This series of milling machine safety guards is designed for table mounting on medium sized milling machines.  The guards feature front sliding doors monitored by safety rated 2NC micro switches and removable side panels as required for extra long components. These guards are manufactured from special aluminium extrusions and clear polycarbonate. For machines employing large, often hydraulic action vices, users can make an opening in either one or both sliding panels to allow the vice to protrude through the guard.   It is the responsibility of the buyer to ensure that a suitable "fill in" panel is fitted when the vice is not protruding through the opening.
As well as four standard sizes, specials can be supplied to special order.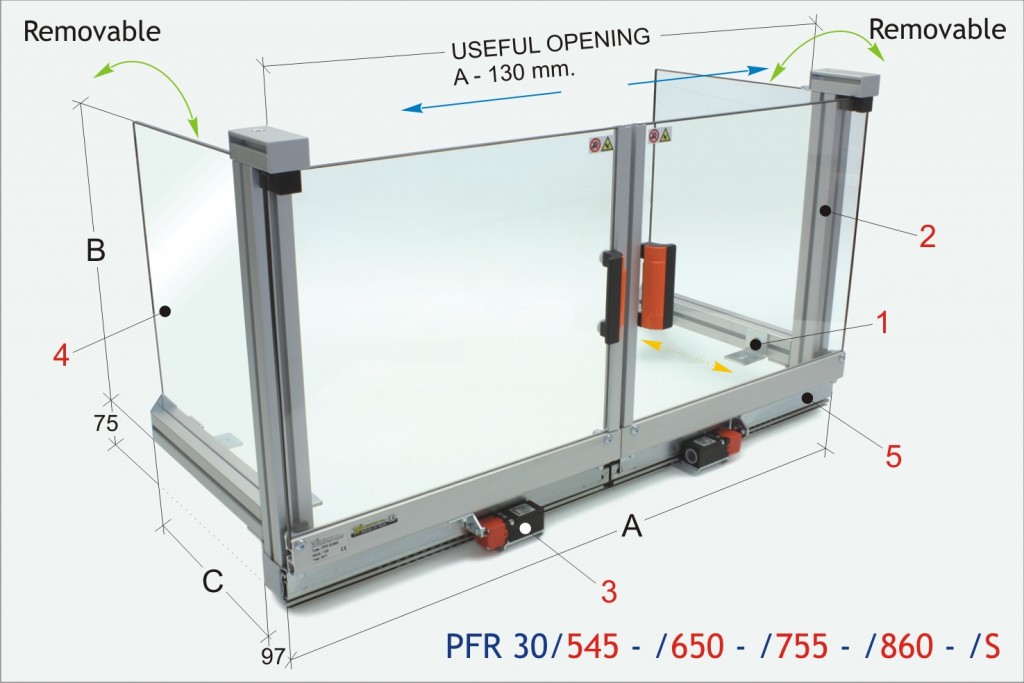 | | | | | |
| --- | --- | --- | --- | --- |
| MODEL | Table length (A) | Height of guard (B) | Width of end panels (C) | Useful Opening |
| PFR 30/545 | 1000mm | 450mm | 350mm | 870mm |
| PFR 30/650 | 1200mm | 500mm | 400mm | 1070mm |
| PFR 30/755 | 1400mm | 550mm | 450mm | 1270mm |
| PFR 30/860 | 1600mm | 600mm | 500mm | 1470mm |