Cleervue Model SSP Table Mounted "Enclosure Style" Mill Guard
Designed for Horizontal and Vertical Milling Machines of medium size consisting of two sliding front panels running in linear bearings and two end panels. The two end panels can be swiveled open for machining extra long workpieces.  Guard is bolted to the machine table through slotted mounting bars at each end providing considerable adjustment across table for clearance around protruding vices etc.  A safety rated 2NC micro switch is fitted to monitor opening of the two front sliding panels.
This guard does not include as standard front or rear fill in panels at table level or rear guarding due to the variety of possible requirements however these additional panels are seldom fitted although necessity should be determined by a formal risk assessment.  Guard is supplied with tee slot nuts to suit customer machine requirements.
The Model SSP1 is supplied with a sliding opening window giving access to levers & handle on the right hand side as required for turret mills.   The Model SSP2 does not have this feature.
For machines employing large, often hydraulic action vices, users can make an opening in either one or both sliding panels to allow the vice to protrude through the guard.   It is the responsibility of the buyer to ensure that a suitable "fill in" panel is fitted when the vice is not protruding through the opening.
Note that longer models to suit longer tables are available upon request.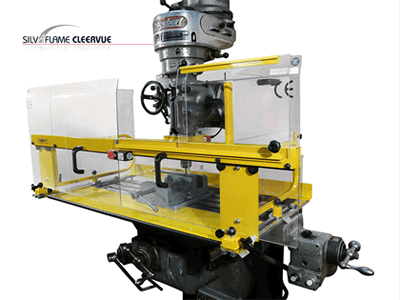 MODEL

Table length – overall.

Specify, supplied to order.

Height of guard

Width of end panels

SSP1

Between 500mm & 1185mm

460mm

500mm

SSP2

Between 1100mm & 1585mm

460mm

500mm