Cleervue BT/2 Polycarbonate Concertina Style Drill Guard
This is our most popular drill guard and suits most smaller pedestal and bench belt drive drilling machines. The guard clamps to the bottom of the quill (Section that moves up and down but doesn't rotate). Most drilling machines of this belt drive type have a round boss  or section at the bottom of the quill suitable for fixing the drill guard to. A length of about 12mm is required. Clamping sizes range from 40mm to 70mm diameter. This guard can accommodate drill chucks with an outside diameter of up to 55mm. Note that sometimes the depth stop lower casting (generally pear shaped) is located right at the bottom of the quill but this casing can generally be unpinned or unclamped and relocated 12mm higher up the quill providing a guard clamping position below the casting.
The guard concertinas upon contact with the work piece and the lower sections depth can be set by adjustable stops. The guard pivots up with over centre springs to hold the guard open for access to the chuck.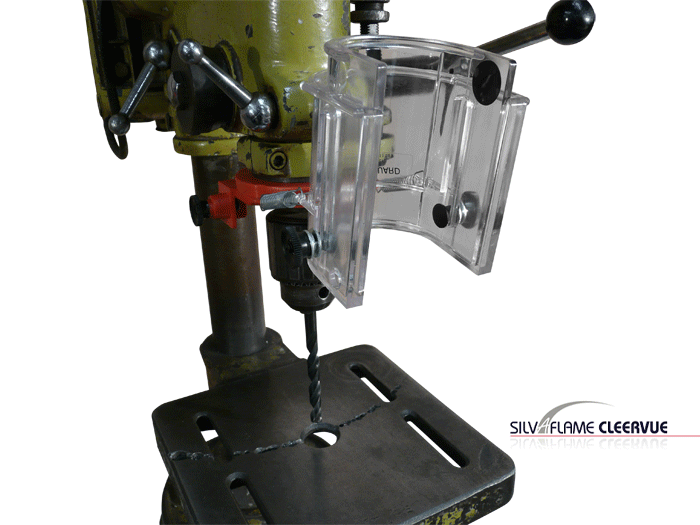 | | | | | |
| --- | --- | --- | --- | --- |
| MODEL | Clamping Diameters | Maximum Outside Diameter of Drill Chuck | Maximum overall guard length | Minimum length when compressed |
| BT/2 | 40 to 70mm in 1mm steps | 55mm | 170mm | 114mm |
Cleervue BT/4 Polycarbonate Drill Guard
This guard is the same as the BT/2 drill guard ,however it has a vertical bracket which enables fastening to the depth stop casting or similar. The guard dimensions and features are the same as for the Model BT/2.
For larger drill guards of this style, required for a larger clamping diameter or drill chuck diameter or longer guarding length,  refer to models MTS and MT.  For small machines without an obvious full circle clamping position refer to the below model